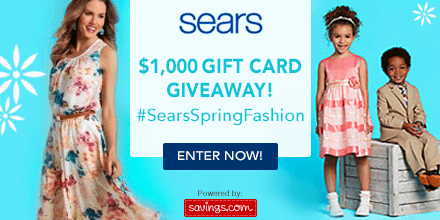 Enter to win a $50 Sears Gift Card (20 Winners) + Promo Code
Enter to win a $50 gift cards to Sears! Just head over HERE and enter to win one of the $50 Sears Gift Cards they are giving away to 20 winners! A total of $1,000 worth of gift cards are up for grabs!!!
There are a TON of Sears deals available, so a free $50 Sears Gift Card would go a long way. Sears offers such great deals on Spring Fashion with 15% off promo code that you can use on reduced spring fashions for the entire family. Use promo code BUNNY (expires 04/08/15) and get 15% discount. Shipping is FREE on orders of $ 59.00 or more.
Look at this cute dress I found for me! It's regular price is $44, but with the BUNNY promo code and reduced price, it's only $18.69 FREE shipping with Store Pickup!
I'm also a Sears Shop Your Way Shoppers PERSONAL SHOPPER, so make sure to enter to win AND add me as your free personal shopper. When you join in the Sears/Kmart SHOP YOUR WAY Rewards program and get points for your purchase. When you sign up under me as your Personal Shopper you will receive exclusive directly from me, FREE 90 Days of Shop Your Way Max, meaning FREE shipping on your purchases of $10 or more! You will also get FREE money to spend at Sears and Kmart with CASH BACK ON ALL YOUR PURCHASES, $5 off coupons.