Disclosure: This post is brought to you by Savings.com
Not a morning person? That makes two of us! Luckily there is Community Coffee – 4 generations in the making! Find this delicious coffee at Sam's Club. The only motivating factor for getting out of bed in the morning is that aroma, and taste of your morning cup of coffee. So many reasons for my love for coffee: helps me relax, taste amazing, and it has some health benefits!
Coffee and I go a long way and I think it was passed on from generations. I remember when my grandparents would come to visit and I would sneak a sip here and there. Well, my love for coffee has grown extensively. It's not just a beverage, it's life!  The bubbling sound the pot makes when it's almost ready, nothing else compares.
About Community Coffee
Community Coffee is a coffee that's all about making the morning, the day, and the vibe of life better. These guys have been making coffee since 1919 – that's four generations. Four generations of family, friends, and Community Coffee.
Enjoy This Delicious Coffee Recipe
Personally, I love a black, strong cup of coffee strong and black. Many might not, and would prefer a latte and other flavored coffee drinks. To honor those that maybe love other stuff, instead of coffee, here is a simple but delicious recipe using Community Coffee.
Ingredients
1/4 cup brewed Community coffee
1/4 Fat-Free milk
1 Tablespoon Chocolate Syrup
1 Drop – (I use 2 because I love it!) -Peppermint extract
Preparation:
Brew your Community® coffee to your taste. Heat up the milk. Mix the chocolate syrup and the peppermint extract into coffee. Foam milk or if you prefer, pour hot milk into a cup. For extra decadence, I add some whipped cream! Enjoy warm.
Giveaway!
Enter to WIN one (1) of the five (5) $100 Sam's Plus Gift of Membership Gift Cards!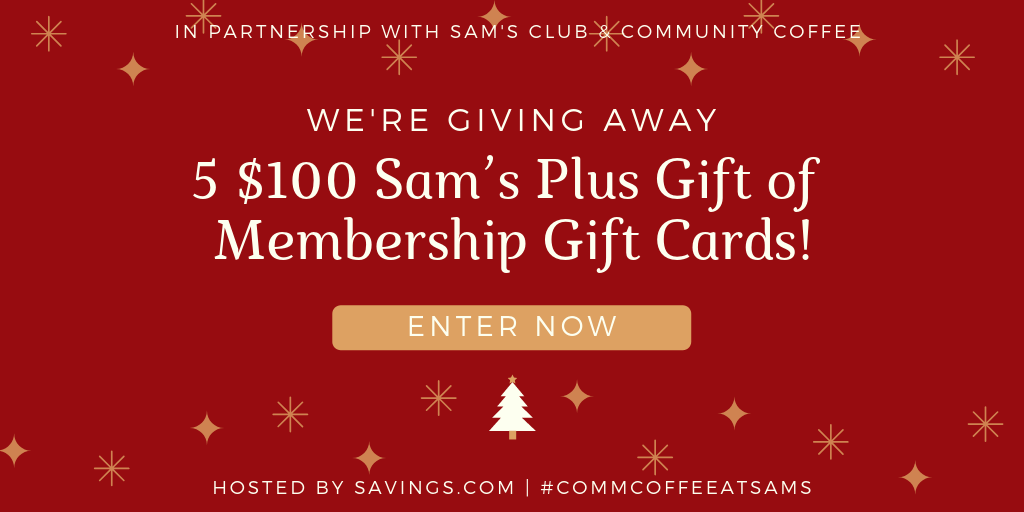 It's Christmas time and we all need some extra money, right? Enter the Savings.com giveaway, and an amazing promotion right now for new members:
OFFER DETAILS
Click this link to get $15 eGift card with a new membership. Some exclusions apply. See website for more details. Valid through 12/31/18. Don't to open your Valpak envelope for more information about Community Coffee at Sam's Club!
CAMPAIGN DETAILS
Monday, December 10th at 12:00 AM ET to Monday, December 31st at 11:59 PM ET.
Five (5) winners will receive a $100 Sam's Club Membership gift card.
You can enter the giveaway by heading to Sam's Club page on Savings.com and submitting your email address on the form at the top of the page.
The winners will be chosen through a lottery drawing and notified on Wednesday (1/2) via the email address they used to enter.
See complete Official Rules for entry instructions, full prize descriptions, restrictions, and other important details.
This sweepstake is not hosted by Coupon Mamacita. Be sure to refer all questions and concerns to the Savings.com official rules pages, linked above.